Alternative Music with a Jazz Infusion
Charting new waters on the wind and waves of harmony.
​
Take an Eastern European classically trained composer and award winning string player. Pair her with a bass player with decades of professional experience in the jazz world. Add a drummer/producer who's been all over the U.S. getting people off their seats with funky grooves and you've got the synergy that is Celestial Navigation.
Celestial Navigation performs an avant garden of alternative music. Didem's stunning compositions convey understanding into the inner self.
The group has been captivating audiences throughout the Pacific Northwest with their intriguing live shows.
Featuring soaring violin solos and complex rhythms, the trio's performances always leave a lasting impression.
Fans worldwide are also discovering Celestial Navigation through YouTube, Spotify, iTunes, Facebook, and other sites. Their artistic videos range in topics from the conflict in Syria, flight MH370, to love and serenity. Didem's compositions all have concepts behind them and the videos bring these to light.
Their first full length album, Southern Cross, as described by
Northwest Music Scene:
"To put it in a nutshell, imagine if Bjork decided to be a classical musician and an astronaut and chronicle her journey through time with song. The result would be something like this album. It's as sophisticated as it is bizarre and wondrous.....This provocative album is for the person who is bored with all the usual suspects and wants something that is not only intellectually stimulating, but desiring an insight into the existential soul. It's beautiful and stunning."
​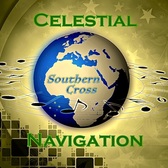 ---
Next Album 'Cosmic Journey' out April 16th, Pre-orders start March 16th~Preview:
Red Giving ~ Official Video